11/09/2014
Vitamins, Minerals & Supplements: The Role of the Physician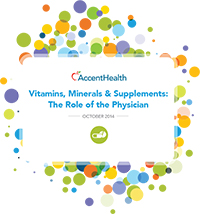 Sales of vitamins, minerals and supplements (VMS) have been steadily increasing since 2008, making the category by far the largest in the OTC (over-the-counter) healthcare market. This growth has been fueled by an overall increase in consumer focus on health and wellness — with Americans being more health conscious than ever before and in spite of skeptics questioning category effectiveness. In the interest of leading healthier lifestyles, vitamin users are more likely than the average adult to exercise, eat healthy and visit their physician regularly.
AccentHealth commissioned Encuity Research to conduct an online survey with physicians on their panel who are members of AccentHealth's media network. This report will review findings of a study designed to explore both physician and consumer perceptions of VMS, the sources for VMS information and VMS purchase drivers among health-minded consumers.
Information on this form will be shared with our sponsors.