05/22/2013
Six ways to improve health care operations with business rules management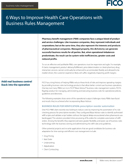 Thank you for your interest in the "6 Ways to Improve Health Care Operations with Business Rules Management" white paper. To read this new study, please fill out the form below.
To run an effective and profitable pharmacy benefit management (PBM) company, core operations must be responsive and agile. If claims management, product delivery/fulfillment, price determination or client-pharmacy drug interaction services cannot continually be made more flexible and market-driven, the customer experience likely will suffer, negatively impacting profit margins. Learn how to reduce costs by improving automation, conflict rules management to overcome drug interaction conflicts, and manage rebates by leveraging rules.
Information on this form will be shared with our sponsors.