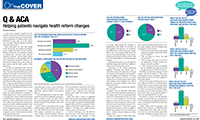 As the massive changes wrought by the Affordable Care Act reach a crescendo in early 2014, who are Americans turning to for help navigating the complexities of a health system in transformation? In many cases, it's to the nation's most accessible health-and-wellness providers: community pharmacists.
According to an online survey of 348 pharmacists, conducted by 
Drug Store News
, almost two-thirds say they have been receiving questions about health reform since Jan. 1.
To view a complete report on what pharmacists had to say, fill out the form below. Information on this form will be shared with our sponsors.