12/15/2011
Mobile Technology & Medication Adherence
Why pharmacy needs to go mobile — today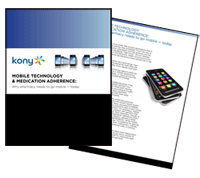 Today's pharmacy is so unlike that of past generations that it might as well be an entirely new profession. From the rise of the aging baby boomer population and the growing role the pharmacist plays in managing "high-touch" chronic disease states, to advances in the electronic health record and e-prescribing, the pharmacist has become a more central link in the healthcare chain.
Key developments in pharmacy technology have not only enabled this fundamental shift, they are transforming the industry more rapidly than ever.
Perhaps the biggest technology opportunities for the pharmacy industry lie in mobile applications.
In this whitepaper, we will discuss the steps that independent and national pharmacies can take to bring robust mobile offerings to their customers and their staff for improved medication adherence and prescription management. 
Please register below to download report.
Sponsored by:
* Information collected by this form will be shared with our sponsor, Kony. Drug Store News and our sponsor value your privacy. To view privacy policies click here: 
Drug Store News policy
Kony policy